Your very own comic strip! Starring: you and your friend 🙌
Bitmoji Stories is the best way to see what your Bitmoji is up to! Check them out on Snapchat's Discover page.
Make sure you have a Bitmoji linked to your Snapchat account and search for "Bitmoji" on the Discover page or Snap to open.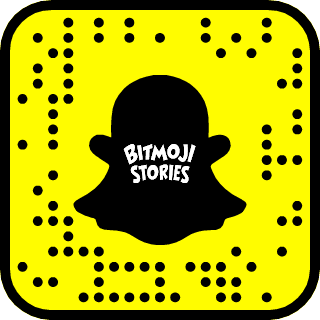 Stories are published regularly - swipe up to subscribe and see your Bitmoji's latest shenanigans 😜
Q: How do I choose which friend stars in Bitmoji Stories with me?
A: Your co-star is the latest person you interacted with who has a Bitmoji.
If you haven't added friends on Snapchat or none of your friends have Bitmoji, you might see a random avatar starring in the Story with you 👽
Q: How do I share my Bitmoji Stories?
A: You can now send Bitmoji Stories! Follow the steps below:
As you're watching a Bitmoji Story, tap on the Send arrow at the bottom-right corner

Send your Bitmoji Story to your friend(s)!
Note: Sending a Bitmoji Story will keep the original friend that co-starred in the comic with you. To change co-star you will first need to interact with the Friend you wish to co-star with and rewatch the Bitmoji Story!
Q: How can I choose who can use my Bitmoji avatar in Bitmoji Stories?
A: Your Bitmoji may show up in your Friends' Bitmoji Stories. Bitmoji Stories feature your personal Bitmoji avatar alongside your Friend's Bitmoji avatar. Bitmoji Stories are found in the Discover page and they can be shared with others, including outside of the Snapchat app.
To choose who can use your Bitmoji avatar in Bitmoji Stories and in Friendmoji stickers please follow the steps below.
From the Snapchat app, tap on the Profile icon in the top-left corner

Tap on the Gear icon in the top-right corner

Scroll down to find 'Use my Bitmoji Avatar'

Choose the option you prefer