The Bitmoji Chrome Extension allows you to send Bitmoji stickers in Gmail and access them easily from your Chrome browser. You can copy and paste them virtually anywhere on the web!
Do you and your friends share inside jokes? Does your team have a slogan you love? Now you can customize Bitmoji stickers on the Bitmoji Chrome extension to show just that 🙌
Add the Bitmoji Chrome Extension to your Chrome Browser to get started.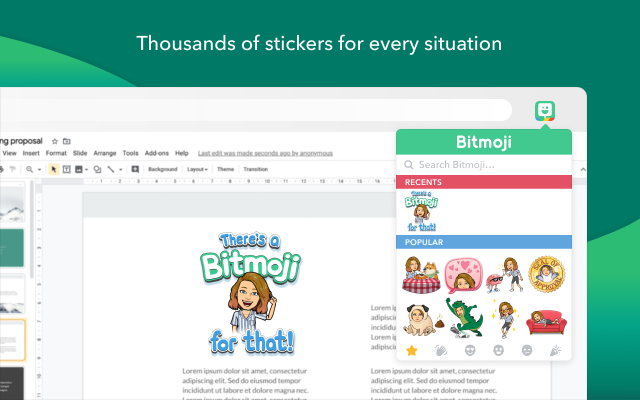 Once you've downloaded the extension and logged in, you'll also see your avatar's face in Gmail! You can insert Bitmoji stickers anywhere you want. You can even click and drag to resize them 👌
Q: I'm having trouble logging in on the Chrome Extension, what can I do?
A: When logging in, it's important that you log in with the same credentials you signed up with! For example, if you signed up for Bitmoji via Snapchat, you must sign in with your Snapchat credentials - NOT with the email associated with your Snapchat account.
Forgot your password? You can change your password by following these steps:
If you created your Bitmoji account using

an email address

instead of Snapchat Login, request a password reset at

this page.

If you created your Bitmoji account with

Snapchat

,

please follow the directions to reset your password on

Snapchat Support

.
Q: I don't have a Bitmoji, how do I create a Bitmoji to use on the Chrome Extension?
A: In order to use the Bitmoji Chrome Extension, you first have to create an account with the Bitmoji mobile app. You can download the latest version of the app on your phone from the Play Store or the App Store.
Please note: You can only change your avatar's features and outfits on the mobile app. There are plenty of customization options and outfits available for you in the app 😎
Q: How do I use the Bitmoji Chrome Extension outside of Gmail?
A: Follow these steps to use the Bitmoji Chrome extension virtually anywhere!
Tap on the Bitmoji icon in the

top-right corner of your browser

Log in with Snapchat or email, if you haven't already done so

Right click on your mouse to copy any Bitmoji

Paste almost anywhere! You can also drag and drop Bitmoji stickers on some websites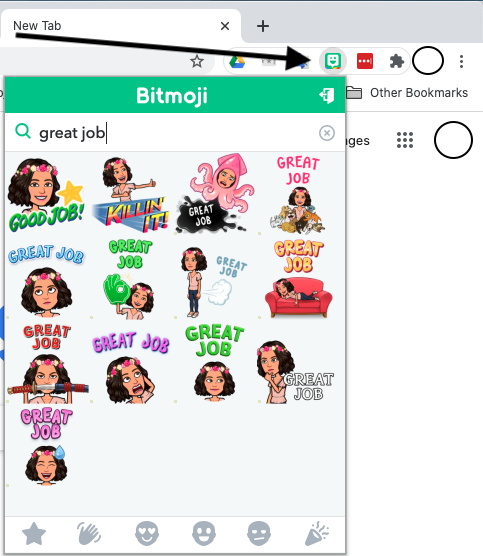 If you do not see Bitmoji in your toolbar, you may have to pin it by following these steps:
Click on the puzzle piece to see all your extensions

Scroll to find Bitmoji

Click on the pin icon on the right
Q: How do I customize my stickers on the Chrome Extension?
A: Follow these steps to customize your Bitmoji stickers!
Start typing in the search field. If a pre-made Bitmoji is found after you type the second character of your search term, the sticker will show up in the search results as usual. Scroll down to find regular stickers and your custom-made ones ✨
Important notes:
Every custom-made Bitmoji sticker will have a yellow watermark on the bottom-left corner. This is how you know someone sent you a specially made sticker that isn't from the Bitmoji library!
If you type a very long text, there might not be any customized results. Try shorter messages if you're having trouble.
Be kind and respectful when using your new power - usage of certain words may not give you any results 😇